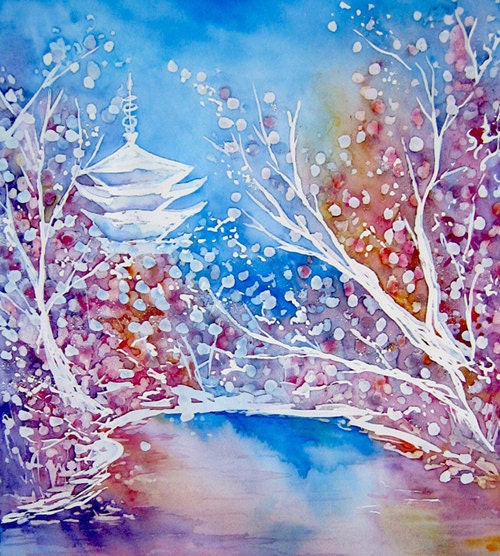 "Sensō-ji" is a reproduction of an original watercolour painting by professional artist Brazen Edwards-Hager.
Sensō-ji is an ancient Buddhist temple located in Asakusa, Taitō, Tokyo. It is Tokyo's oldest temple, and one of its most significant. In Zen temples, a building containing a pagoda is a monument where the relics or the ashes of a holy monk are kept, symbolizing oneness with the universe. In Japan cherry blossoms are an enduring metaphor for the ephemeral nature of life, which embodies the concept of "mono no aware" which literally means "the pathos of things", also translated as "an empathy toward things". It's a Japanese term used to describe the awareness of impermanence, or the transience of things. This knowledge heightens the appreciation of their beauty, and evokes a gentle sadness at their passing.
The original painting had the honour of hanging in the Kelowna Public Art Gallery as part of their "Path to Abstraction" Exhibition.
Click Here to Visit My Etsy Shop!